After moving to a new server, the question arose of how to transfer email message from the old server to the new one. I could not say that there was a lot of useful information, but just in case it never hurts to have copies of archival documents from the past.
So I began to research how to do it. Moving the email folder with mail on the server disk turned out to be not the best option - it did not want to copy all the files, but it was not possible to copy the folders.
I did not find a single useful linux utility, but I came across several paid ones that did not inspire confidence.
As a result, the problem was solved in the most banal way - since both servers were still functioning for me - I simply selected the folders in Thunderbird that needed to be transferred to the new server and dragged them to the new account! It's that simple!
Everything went well! This was the last step I needed to complete the move process, now the old server can be safely paid off without paying twice as much for hosting!
By the way, I highly recommend linode - I have been using this hosting provider for many years and I like everything with them! For five dollars a month, you will get a full-fledged virtual dedicated server for your projects, with 1 GB of RAM and 32 GB of disk space, it is enough for a small pet project.
Found a useful article on how to set up your own mail server. This is important to me - without such hints, setting up the server takes about twenty-four hours and with the instructions this can be completed in just a day. If not for some minor mistakes in the article, it could have been done even faster. After some time, the antivirus that I have installed according this article was uninstalled - this thing eats away almost a quarter of the RAM, which is slightly critical to me.
On the same site you can find of how to configure Apache, PHP and MySQL. I can not say that this information is very necessary - you can install them without such instruction, but with instruction it is easier.
The OpenVPN can be configured here according to this instruction. In my opinion, OpenVPN should be configured by every self-respecting specialist.
What useful links and instructions do you have?
I have created a new device for experimenting with Asterisk. For some reason, the firmware made by the author of raspberry-asterisk hangs at random times. Sometimes it works for several days, sometimes it freezes after a few minutes. At first, I sinned on the raspberry itself, then on the SD card, then on the power supply. However, the device freezes stably.
Yes, I know that it is impossible to assemble a stable working device with an asterisk on a ten dollar board that will fully fulfill the functions of an "adult" ATC. I know that for something more serious you need more serious equipment. But I still want to know how to do it!
Having adjusted the memory and temperature monitor of the device, I noticed that the device does not consume a lot of memory and does not go into CPU throttling, but, nevertheless, the processor temperature is slightly higher than on a similar device without an asterisk.
I decided that it was all about the firmware itself, because even the author of rasbnerry-asterisk no longer supports Raspberry Pi Zero in new images.
Therefore, I decided to install Asterisk on Debian from scratch, fortunately, the are already many instructions in the net how to do it. In order to do it I ordered a new board and a USB hub. The board was powered from the same hub which is goos - not all devices allow that but this one worked as expected. The USB stick was also successfully discovered by the device as well.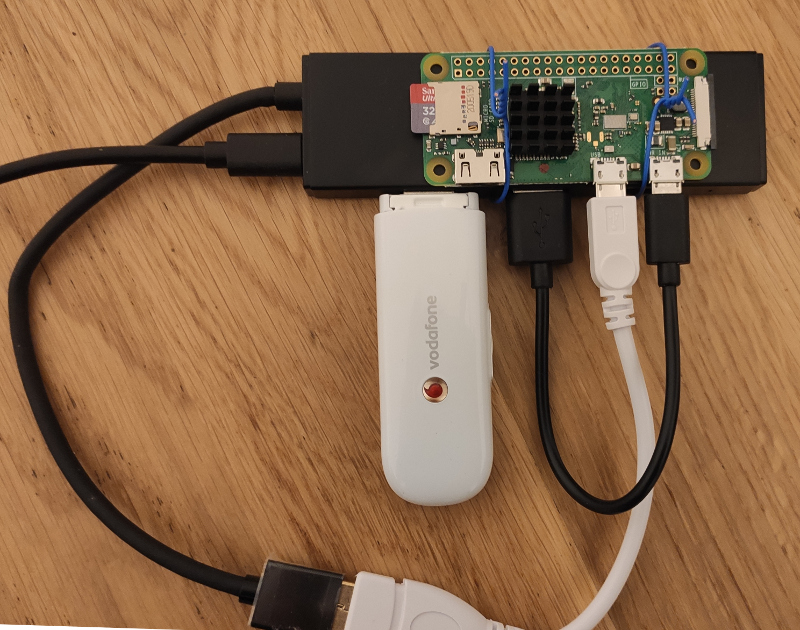 Compilation of the asterisk took several hours, but everything worked as it should and in the end I got a completely working system.
So far the device works stably - let's see how long it will work in this incarnation.
P.S. Works stable not reboots, no freezing, so the problem was in original firmware. Looks very promising.
Sometimes when when you develop, for example, an online shop you need the credit card number that passes the credit card validation test.
There are many sites that could give you a bunch of random cards e.g. this one.
But much simpler to remember couple of them so you do not need to copy paste anything fromt third party resources.
There are two numbers that can be used in this situations which can be easily remembered:
4111 1111 1111 1111
and
4242 4242 4242 4242
I did know about the first one but I did not know about the second one which is also quite easy to remember.